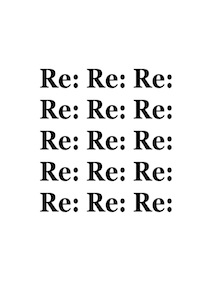 12 page A5 pamphlet, unstapled, co-written with Andy Jackson, 4 poems each (unattributed), 50 printed. Launched in front of approx. 35-40 friends at the VWC Reading Room. No ISBN. No reviews. Self-financed/ clandestine. All copies distributed free. High symbolic capital within the closed field. Private press pamphlet.
CONSTRUCTION/ CONTEXT
In 2004 I received a New Work grant from the Australia Council for the Arts, which enabled me to spend three months in 2005 preparing the collection that would later be published as We Will Disappear. During this time I also wrote a second set of poems, Love Ship Demos (Prater, 2005b), which remains unpublished, although a number of poems have since been published in journals. This second manuscript could be considered as private or even 'non-publishing'. At the end of this period of intense writing, I began discussing with Melbourne poet Andy Jackson the idea of collaboration, which eventually manifested itself as a co-written pamphlet. The desire to make a book object stemmed in part from our involvement in performances, recordings and the poetry scene. We named the pamphlet Re: in honour of a series of emails we'd sent each other without a subject line, thus producing a recurring 'Re:'.
FORMAT/ OBJECT
If 8 poems was a minimalist affair, Re: set new standards in book-object deconstruction, in my mind at least. It consisted of three A4 pages in landscape format folded over to produce an unstapled pamphlet of twelve pages in total. The cover featured our take on the recurring 'Re:' plus our names and nothing else. In total, it probably took an hour to format, and about ten minutes to print. Each copy was also numbered by hand but bore no other human marks. The order of the poems was straightforward, with a total of four poems each printed in alternating order. My four poems were all new, and were taken from Love Ship Demos. We chose not to attribute the poems individually, preferring to present the object as a co-written collection. While the decision not to staple the pages together was probably made for practical reasons, in hindsight it seems eminently suitable for the physical format of an anti-book to be virtually spineless and unbound. The format itself speaks to a DIY aesthetic more usually found in music fanzines and political tracts, but which also has its roots in English broadside culture.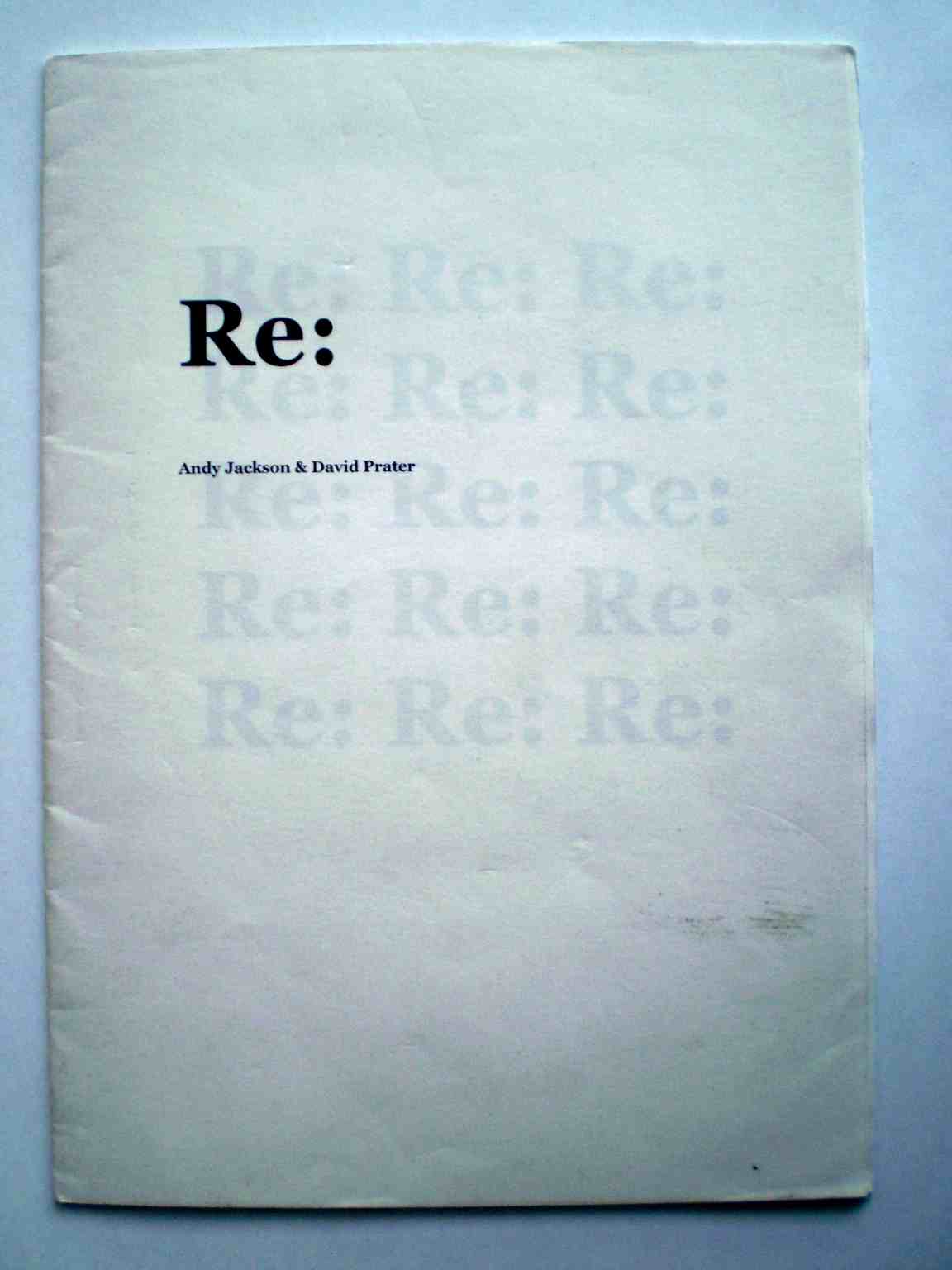 PERFORMANCE/ LAUNCH
The launch for Re: was held in the Victorian Writers Centre in June 2005, and drew a crowd of thirty to forty people. Here's the text invitation we sent out:
DAVID PRATER & ANDY JACKSON LIVE UNPLUGGED & POETIC
Join us THURSDAY 9th JUNE, 6pm at the Victorian Writers Centre (Level 1, 37 Swanston St, City) for TWO HOURS of POETIC POWER! David Prater and Andy Jackson go tag team, with MC Paul Mitchell calling the shots. Entry $5/$3, with free wine and EXCLUSIVE chapbook on entry. Yes, you read correctly: a FREE chapbook. Who else would dare? Also featuring giveaway set-lists, plectrums and other rock 'n roll poetry souvenirs. This will be Davey's final show before heading overseas, so come along to make sure he actually leaves!
While the tone of the invitation suggests that the evening was playful, I think we both felt that the launch and reading offered us an opportunity to 'create our own space' and use it to perform our own works, on our own terms. It was the first and so far only time I had ever had a launch for a book containing my own poetic works. It's interesting to reflect on the ways in which our 'performance' – two twenty minute sets each, in alternating order, introduced by an MC – was in fact an act of instant 'self-publication'. In a similar way, the clandestine printing of the book object called Re: was also a statement of independence. While the construction of the object preceded the performance of the work, both were equally important elements in a clear ritual of self-consecration.
CIRCULATION / PUBLIC
Only fifty copies of Re: were ever printed. We could have printed up hundreds of copies if we had wished but the whole point of the project was to create an artificial sense of rarity. The sense of rarity was achieved by numbering every copy but this rarity was artificial because, to be frank, anybody could have made another copy quite easily. All fifty copies were distributed freely both on the night of the book's 'launch' as well as by hand over the days and weeks following the launch. It was very important to us that the pamphlet and the launch performance were connected in such a way. In this respect the circulation for this book object was probably even less than the circulation of 8 poems. Both of these book objects share one characteristic, namely a small but interested audience, composed mostly of other poets. The audience for both books might be described as 'controlled' as well, in the sense that as author-publishers, we made a deliberate decision to restrict the readership for these works.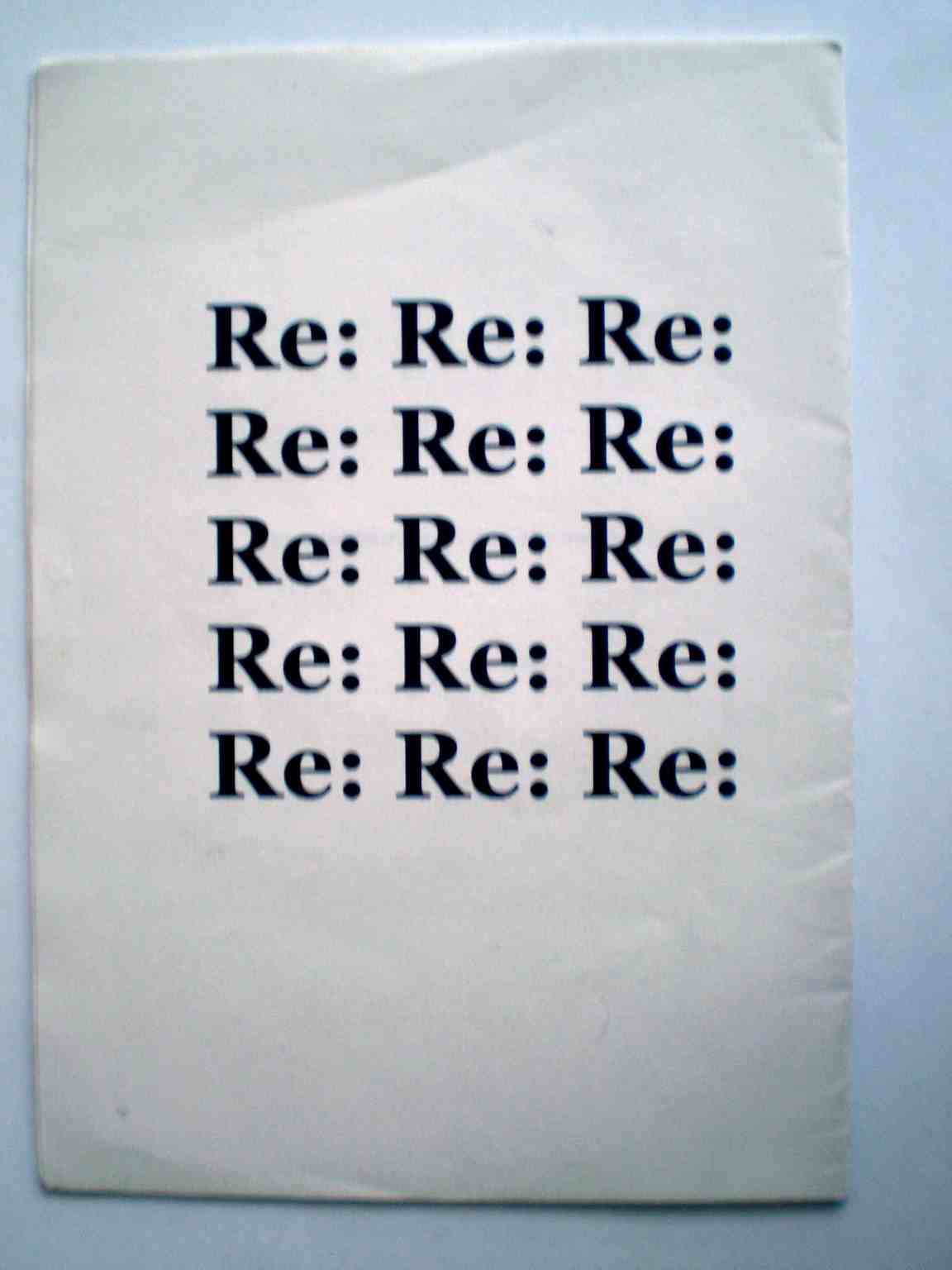 RECEPTION/ PRESTIGE
Chapbooks and broadsides can easily be analysed in terms of the manner of their performance. Re: is defiantly non-commercial, and resists classification through its eschewal of ISBN, library data, publishing details and so on. In fact, if anything, Re: resembles a split 7" release by two bands, with traces of punk in its obscured sense of irony. If one were to seek to classify this book object in terms of the manner of its construction, one might argue that it contains elements of self-, private, vanity and non-publishing all at once. It might also be viewed as an expression of a highly symbolic capital, bestowed upon both the book object and its authors through acknowledgement by other actors within the field of its construction. More contentiously, the fact that Re: remains one of the only examples of a co-written work in our respective 'bibliographies' suggests a more complex 'turning away' from notions of authorial or individual genius. In fact, the book in some ways supports the notion of authorial intention, while still seeking and creating its own copyrighted space within which to mock that intention.
ARCHIVAL/ SURVIVAL
I am now in possession of only one copy of Re:. In 2007 I wrote to Andy asking him if he would be interested in re-publishing the pamphlet, either in its original format, or else online as a PDF. We also toyed with the idea of re-mixing the poems, or writing new poems in response to the original poems. The fact that none of these ideas got off the ground speaks partly to that particular ability of poets to promise everything and deliver nothing. It also speaks to the possibility that in every way this was a successfully completed project that neither of us has any desire to adjust, spoil or tamper with. In this sense, its survival in our writing practices is what matters the most. I can't help wondering what happened to the other forty eight copies we printed, folded and hand-numbered. Did they suffer a similar fate to my recycled copy of 8 poems? Were they thrown out immediately after the launch in 2005? Or will they hide in bookshelves for years to come, awaiting that rarest of characters, the future reader?
This text was originally published as part of my PhD thesis, "Bonfire of the Vanity Presses: Self-Publishing in the Field of Australian Poetry" (Swinburne University of Technology, Melbourne, 2010).
Re: (with Andy Jackson)
2005

Contents:

            This Stubborn Spotlight
              Oh God!
            A Safe Distance
              Maz
            Another Suicide Girl
              Summer Bay Dreaming
            Everything Is Paid For
              Station Static