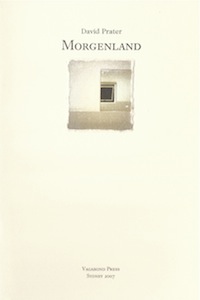 24 page A5 chapbook, staple bound, 100 printed. Rare Objects Series No. 50, Vagabond Press (Sydney). No launch. NO ISBN. One review. Manuscript supported by a grant from Asialink. 10 free copies. Obscured but definite literary prestige. Small Press. Private Publishing.
CONSTRUCTION/ CONTEXT
In late 2005 I travelled to Seoul for a four month Asialink residency. My time there was spent teaching courses in Australian Culture and creative writing at Sogang University, and working on my own projects. I wrote a large number of poems and prose poems during the residency and did most of my writing in Korean internet cafes (or PC Bangs), entering my posts straight into a weblog. By the time I returned to Australia in 2006, I had two finished manuscripts: a collection of prose poems entitled Imaginary Cities: PC Bangs and another chapbook, Morgenland, incorporating poems written in Korea and Japan. This second volume was conceptually related to Abendland, in that it was concerned with 'morning-land', a word sometimes used to refer to 'the East'. At the time I intended to publish it in a similar manner as that of its counterpart but after meeting Vagabond Press editor Michael Brennan in late 2006, I sent him the manuscript for consideration. Morgenland came out through Vagabond Press in November 2007 in a limited edition of one hundred copies, right after the release of We Will Disappear.
FORMAT/ OBJECT
In terms of layout and production Morgenland, while Abendland's twin, displays a more refined and professional sense of itself as an object. It also bears several hallmarks of what we might call 'proper poetry publishing' while at the same time spurning standard international systems of identification such as a barcode or ISBN. The cover (see image below) is a thick, textured cardboard, and features a hand-affixed digital image by artist Kay Orchison. The authors' name, as with We Will Disappear, sits above the title, which is capitalised. The publisher's name and the place of publication appear at the bottom of the front cover, as with all previous titles in the Rare Objects series. The back cover features the publisher's address at the bottom. On the inside front cover is a list of acknowledgements, the Asialink logo, a dedication, the publisher's name again and the Rare Object number (#50). At the very bottom is the author's copyright statement and a link to my website. All aspects of the book's design were handled by Vagabond Press, in accordance with the style used for previous books in their Rare Object series.
PERFORMANCE/ LAUNCH
While the launch and publication of We Will Disappear in August 2007 had been almost totally public, the 'publication' of Morgenland amounted to meeting Michael Brennan once more, this time in a Sydney pub in November 2007, in order for me to sign and number all one hundred books. Thus, having duly 'authorised' Morgenland, I received my ten free copies. This ritual was obscure and fascinating in itself; every tenth copy was kept by Vagabond as part of its archives for the Rare Objects Series. I also bought an extra twenty copies at a discount rate and was allowed to keep one extra unsigned and un-numbered 'reading' copy. In the absence of an official launch, one can only say that as a performance, Morgenland is a chapbook that seems to want to be valued; it retains aspects of both digital culture in its assembly and delivery and prior traditions of the chapbook or 'garland' in its size, length and modesty. It is more aesthetically pleasing than any chapbook I have made myself, before or since.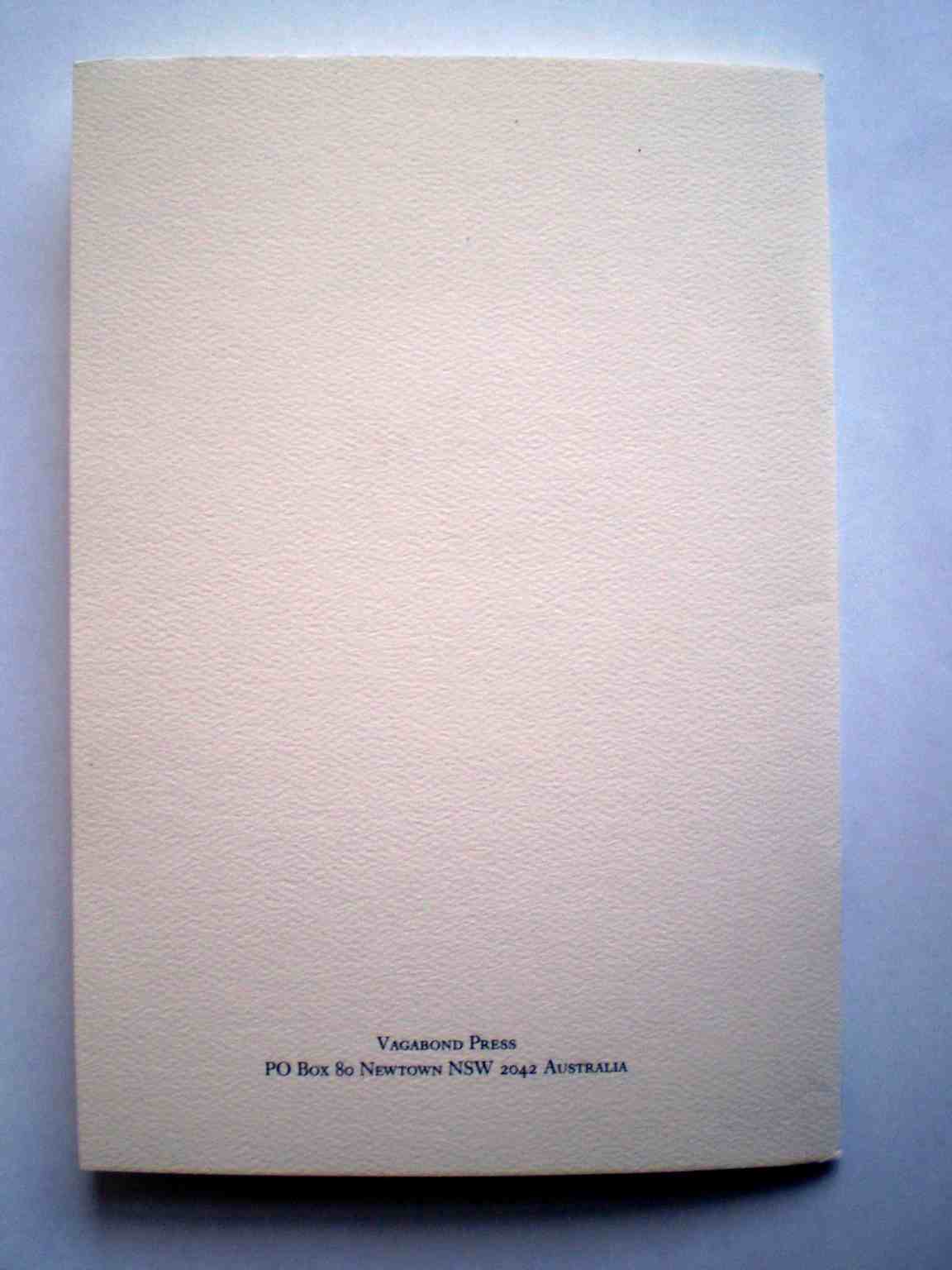 CIRCULATION / PUBLIC
Morgenland is therefore, in essence, a performance of private publishing, destined for one hundred or less readers, which bears hallmarks of quality in its design and presentation. As mentioned above, I bought twenty copies for my own purposes, and have managed to sell about half of these to friends and readers at gigs and performances. Unlike Abendland, copies of which I gave away freely or for very little money at all, I have tended to be more careful about how I circulate copies of Morgenland, partly because even at a discount rate, the cost to me personally is far greater. I also treat these book objects differently because they've been made by someone else, in order to communicate my poetry to an audience. The true extent of this audience remains unknown. I presume that Vagabond will continue to sell copies of Morgenland at future launches and readings. Just as with Re:, the rarity of the object is guaranteed by the limited number of authorised copies.
RECEPTION/ PRESTIGE
Morgenland has received one review, again written by a friend (Fieled, 2009). While some aspects of the way in which Morgenland was produced were different from my previous publications, what remains essential to each of them is the primacy of the chapbook form, as well as the symbolic power of these kinds of books to act as 'business cards' or entry points into a specific field. In this sense, one could argue that a high degree of symbolic capital is attached to this object. The object's rarity is authorised not only by my act of signing each copy, but also by the publisher's authorisation of the book's contents. In this sense it is more like We Will Disappear, which was also published by an exterior publisher, and which performs another whole set of conventions and rituals associated with what we might call 'proper poetry publishing'. As the history of the private press shows, when we speak of 'proper' poetry publishing, more often than not we are in fact speaking of chapbook publishing, as opposed to the twentieth century conception of a book of poetry with a spine, an ISBN and a watermark. The book's capital is partly a result of its echoing of older forms and traditions.
ARCHIVAL/ SURVIVAL
Morgenland has been archived by the National Library of Australia and the State Library of New South Wales. Its survival might therefore be said to be guaranteed, for a few hundred years at least. What more could a writer of poetry ask for, given the lack of a large audience to guarantee wider dissemination and thus preservation for his or her work? What is more important in terms of archival and survival is the publishing of Morgenland within a series that over the last decade has featured a wide range of Australian poets, most of whom have also published what we might call 'proper' books of poetry. In the end this is what will guarantee it a footnote in the history of Australian literature. Interestingly, both Morgenland and We Will Disappear have also been archived as 'books' by the Swinburne Research Bank. How accurate is this classification really? How are we to distinguish between these two publishing performances?
This text was originally published as part of my PhD thesis, "Bonfire of the Vanity Presses: Self-Publishing in the Field of Australian Poetry" (Swinburne University of Technology, Melbourne, 2010).
Morgenland
2007

            Contents: 

            Alone In An Airport II
            Jetlag World
            Sound of Vitality
            White Space
            Snow Grocer
            Hoju Bihang-gi
            Nagasaki Crows
            Trans*
            The Hanok Fields
            Drunk As Ko Un
            Makkolli Moon
            Mokochukcha
            Saihou Jodu
            Imaginary Mao
            Snow Sea Swan
            Lonely Planet
            Icebergs
            Moriapo
            Back To The Tourist III

Credits: 

First published by Vagabond Press (Sydney)
Rare Objects Series No. 50 (2007)
Cover illustration by Kay Orchison
Layout and design by Michael Brennan