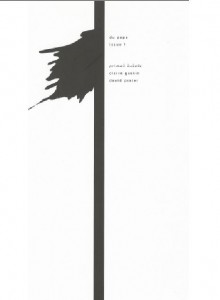 12 page A4, one of 3 stapled chapbooks (100 printed). du papa press (Michael Farrell & Joe Hill). Launched at a Melbourne art gallery in front of 20 friends. No ISBN. No reviews. Costs borne by publisher. 15 free copies. Moderate to obscure social capital. Private Press.
CONSTRUCTION/ CONTEXT
In the two years after I wrote the poems that would eventually become The Happy Farang, approximately fifteen of my poems were published in Australian and international literary journals. This was an improvement on the years prior to 2000 and it was then that I first applied, unsuccessfully, for funding from the Australia Council for the Arts. During this time I wrote a number of poems that would prove to be very significant to my development as a 'published' poet. For example, my poem 'in a dim sea nation', chosen for inclusion in The Best Australian Poetry 2003 (UQP, 2004), was written at this time. Still, I did not hold out much chance of having a book 'published'. Then, in 2002, Melbourne poets Michael Farrell and Joe Hill set up a publishing house called du papa and I was lucky enough to be included in a compilation of three chapbooks entitled issue 1. My 8 poems appeared together with Melbourne poet Claire Gaskin's 9 poems and Slovenian poet Primoz Cucnik's 4 poems.
FORMAT/ OBJECT
The three chapbooks were staple-bound individually in A4 format and compiled loosely in a plain white folio with a black ink line on its cover. It was altogether a minimalist affair, devoid of the publication details one would expect to find in the physical incarnation of a 'properly' published book – for example, the address of the publisher, the date of publication, an ISBN or price. The front cover of 8 poems shows the title, followed by my name and then below that acknowledgements to the online journals in which two of the poems had first appeared. All titles and contents are written in lower case. Collectors may be interested to note that the inside front cover incorrectly states that I was born in 1969. The A4 format stands in sharp contrast to the actual amount of text on each page. Unlike The Happy Farang, in which words are crammed onto the page or tilted due to sloppy photocopying, these poems barely make an impression on the overwhelming field of white space.
PERFORMANCE/ LAUNCH
Despite the uber-minimalist nature of the whole enterprise, issue 1 was launched, appropriately enough, in an inner-city Melbourne gallery space, where Claire Gaskin and I stood on white wooden boxes in order to declaim our verses to an indeed minimalist crowd. Wine was served from casks and copies of the book were sold. While I have very few memories of the launch itself, I do remember a feeling of liberation when I got up on a box to shout my poems at the bemused audience. For me, the 'performance' was also a demonstration of an avant-garde aesthetic which rejects worldly gain in the cause of a higher ideal – in this case the 'art' of poetry. It's very easy to reject worldly gain when you believe you have no chance of attaining it. In fact, I never expected to receive any financial gain from this performance of publication at all. Therefore, by loudly declaiming my verses in that trendy inner-city art gallery, I was really saying that I had left nothing to lose.
CIRCULATION / PUBLIC
While I do not have access to circulation figures for issue 1, I do know that the three chapbooks were circulated, in a very limited sense, amongst a small group of people, mostly poets. 8 poems is an example of private, or coterie publishing. It was also my first experience of working with an editor, who also happened to be a poet. Therefore, it's misleading to speak of circulation in this instance – in reality, the real 'audience' for this work was other poets. On the other hand, I have to admit that while I received ten free copies of issue 1, I never went to the trouble of circulating them. In fact, I still have five of those copies in my possession, and even threw one out with the recycling in a moment of frustration. The performance of this publication, then, might be considered a mime, or a denial of an audience, rather than something aimed at 'readers'.
RECEPTION/ PRESTIGE
A complete lack of critical reception for any of the three chapbooks included in issue 1 suggests that we need to look elsewhere for expressions of symbolic capital. One observation I might make is that private or coterie publishing is often confused with vanity-publishing. Despite its avant-garde trappings, 8 poems is still, in fact, just a bunch of photocopied pages. It's ironic then that one of the poems chosen for publication in 8 poems was originally entitled 'Humility Publishing'. Sensing that I had somehow called out the game, or spoken an unwritten convention, the editor kindly suggested that I change the title of the poem to '[i don't like cricket]'. This poem offers an ironic response to the notion of 8 poems as an act of personal vanity. At the same time, the physical embodiment of this act of 'humility publishing' might easily be viewed as a trivial and almost worthless experiment gone wrong – in the sense that du papa issue 2 never materialised.
ARCHIVAL/ SURVIVAL
Interestingly, the poems from issue 1 have had an impact on my subsequent writing. Firstly, two poems from this chapbook, namely '5 Mobile Phone Text Messages' and 'Caroline', would re-appear five years later in my so-called 'debut' collection, We Will Disappear. The title of the former was changed to '5 Haiku SMS'. Secondly, in 2005 I travelled to Slovenia, partly in the hope of meeting my fellow du papa poet Primoz Cucnik in Ljubljana. While I unfortunately missed him by several days, the occasion of our failed meeting became the subject of another poem, which appeared in my chapbook, Abendland (2006). The poem, 'Pink City', was dedicated to du papa editor Michael Farrell. In conclusion, 8 poems may well be open to accusations of vanity but the spirit of poetic collaboration involved in its construction points to some other motive. On the other hand, one day I may look back on the act of publication itself as an act of support — or even bravery — in the face of apathy.
This text was originally published as part of my PhD thesis, "Bonfire of the Vanity Presses: Self-Publishing in the Field of Australian Poetry" (Swinburne University of Technology, Melbourne, 2010).
8 poems
2002

Contents:

            The House That Cortez Built
            5 Mobile Phone Text Messages
            Desmond
            I Don't Like Cricket
            Madchester
            [            ]
            Caroline
            Departure(s)  

Credits:

First published by du papa press (2002)
(Melbourne, Australia)
Design and layout by Joe Hill and Michael Farrell