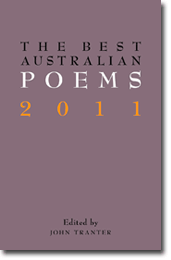 Well, the cat is out of the bag (hat tip, Jill Jones) but I'm very pleased to say that my poem 'Cute' (read it here, or here) has been selected for inclusion in Black Inc.'s Best Australian Poems 2011. This year's editor is John Tranter, who writes "I suspect that these baroque and potent imaginings can only have come into existence as fragments of dreams or nightmares."
Of course I'm chuffed – I've tried and failed on many occasions to submit works to this anthology. A brief look at the contributor list alerts me to the fact that this year's selection is perhaps a little more streamlined than previous editions. I'm really pleased to be in such good company. I only wish that UQP's Best Australian Poetry series hadn't bitten the dust.
Unlike its Black Inc. cousin, UQP's BAP was compiled on the basis of poems published in journals in the previous year, lending it the air of a true 'Best of' rather than a survey based upon submissions and solicited works. But then I guess everyone has their own opinion about this issue, and if I was to be really honest, I'd admit that 'Cute' would probably never have made it into the UQP anthology, given that it was first published online in the UK.
Anyway, I'm now going to pop open a bottle of champagne, and bask in the refracted glory.
As you were.
David Prater is an Australian writer, editor and researcher. Papertiger Media published his first poetry collection,
We Will Disappear
, in 2007 and Vagabond Press published his chapbook
Morgenland
in the same year. In 2013 Puncher and Wattmann published his second full-length poetry collection,
Leaves of Glass
. In 2005 and 2009 he undertook Asialink residencies in Seoul, Republic of Korea. From 2001 to 2012 he was the managing editor of
Cordite Poetry Review
, an online journal of Australian poetry and poetics. In 2011 he undertook post-doctoral research on electronic literature and pedagogy at Blekinge Tekniska Högskola, Karlskrona, as part of the ELMCIP project.
Latest posts by David Prater (see all)